Earlier Friday I posted the following in the "50th" thread. (Thought I'd move it here.) Further below explains why I asked.
Ahkyahnan wrote:

aridas wrote:

There can be a core confederation of five "members": Sol, Tellar, Vulcan, Andor and Centarus, and that confederation can have a joint paramilitary force to police trade routes, quell disturbances, conduct aid and exploration missions etc. <snip> Thus the Arcturan ship flies a Starfleet commissioning pennant indicating it is operating under a UFP commission, but not a UFP pennant indicating it is sovereign UFP territory.

Wanted to follow up on this point a little, as it's directly related to a couple ideas I'm playing around with. So for the TOS Starfleet ships you've been depicting, part of sovereign UFP territory as you describe above, are they unique Starfleet constructions presumably featuring design elements contributed by and reflecting all 5 "members"? As opposed to being Earth ships built for UFP/Starfleet and primarily crewed by humans, combined with so far unseen ships built by the other members for Starfleet as well?

What I guess I'm driving at is how high a percentage of their design is Earth influenced compared to the other members. Are there significant elements that could be traced back to the other members. That sort of thing. Just trying to better understand how you are envisioning that. Based on prior discussions I'm thinking they're 'designed by committee' so to speak, but I'm just wondering if there are some nuances I might be missing.
I wasn't thinking along these lines when I first came up with the Andorian Cruiser idea as the original layout wouldn't have lended itself to it, but when I redesigned it to connect the nacelle pylons directly to the main deck frame...and especially after running some power conduits up through the aft hull to the top where they can power various attachments...it occurred to me that the basic configuration was similar to a frigate with the rollbar. A primary hull with an aft extension, with a combined pylon/aft shield/attachment assembly surrounding the aft extension. In this case that aft shield resembling a rollbar.
If TOS Starfleet vessels do feature design elements from the 5 members, I started wondering if the incorporation of the rollbar with attached weapons/sensor packages might've been an Andorian contribution to what was originally an essentially Earth designed frigate? The basic frigate design evolved over a few decades without any sort of upper attachment, and then with the refit of Reliant we see its first appearance. Maybe this was at a point in UFP/Starfleet history where the 5 members began collaborating more fully and this modification was one of the results? Andorians are considered to be, relatively speaking, a more militant race, so the frigate group might've been a logical place to incorporate some of their design elements.
Aridas, you might already have an idea in mind as to why and when the rollbar suddenly appears, but I thought I'd just throw out this idea and the images below to see what you think. I have a few other ideas along these lines, and was curious.
The first image is a relevant selection of my latest drawings, with most of the details removed so you can focus just on the basic configuration and how it compares to the basic frigate configuration. The aft cutaway shows how internal conduits resemble the pylon/rollbar assembly as well. And the bottom image is one of the old perspective drawings I did that actually have pods attached to the top. I think they convey how the ships low profile is kinda similar to Reliant even more maybe. Curious what you all think.
Mark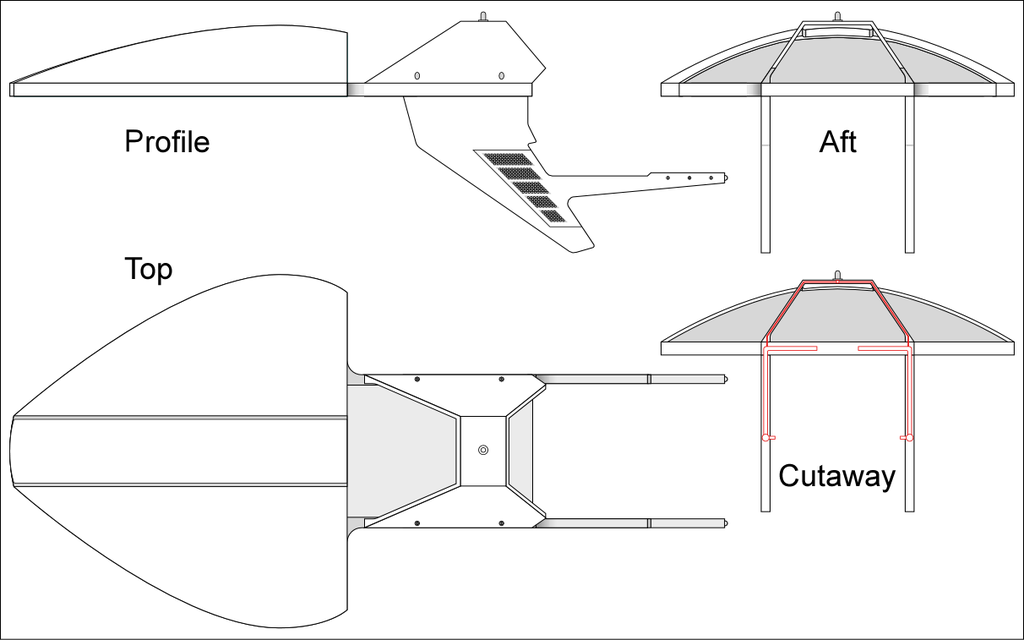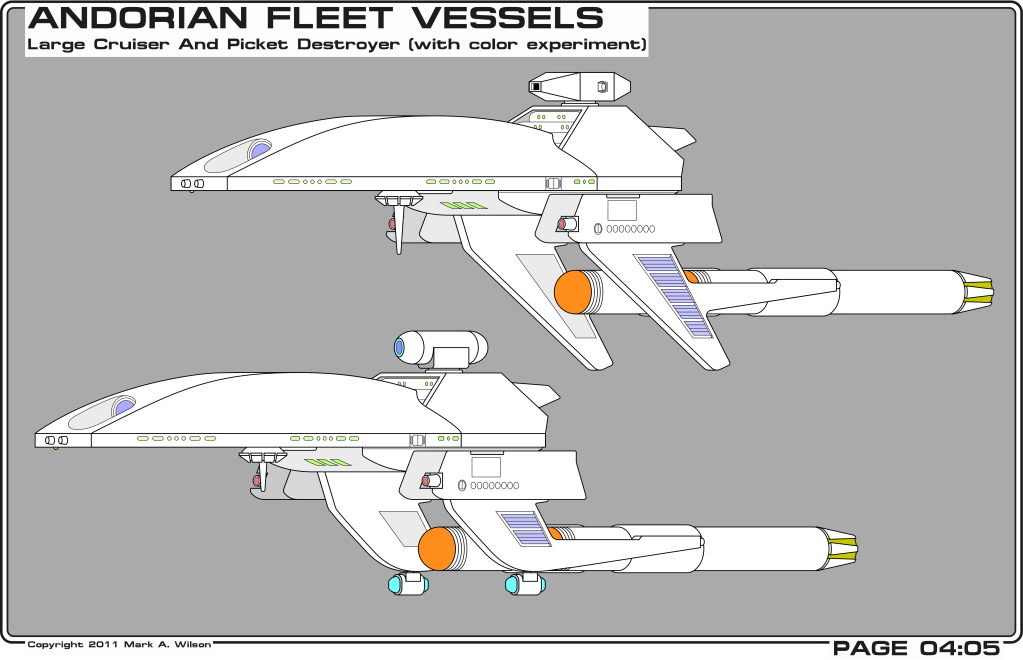 _________________
Northern lights passed by then they were gone. And as old stars would die so the new ones were born. Ever on I sailed celestial ways. And in the light of my years shone the rest of my days. Those who know, will they help us grow, to one day be Starriders.