Jim NCC1701A wrote:

Ditto. I like Mark's Andorian design a lot more than what was shown on Enterprise.
Thanks!!
Below are illustrations of the ships' markings I mentioned earlier. I've initially drawn them in color, but they'll be shades of grey for diagram purposes.
The first thing I did was to recreate Franz Joseph's Epsilon Indii Standard and Seal from the SFTM. That's where the color coding came from. The only thing I omitted was the "E I" in the circle because I didn't think Terran letters would actually be used by the Andorians.
I then started thinking about how these starting points could be elaborated upon to create various hull markings. The results are illustrated below. For this purpose I've only shown the main hull components, so I wouldn't have to reduce the images so much.
On the right you can see the original Standard & Seal. On the hulls, the Top View features a banner/pennant that combines elements of both, with the ships number and name within. For now those are just placeholders and use English, but that will be replaced by an Andorian font later, perhaps one that Owen shared with me on Bernard's site (which I still need to investigate.) The Bottom View features the Seal, and the Side View features the 7 little sword shaped elements that are left if you remove the forward "star" of the Seal, with the ship's number in the middle. Actually I suspect those are supposed to be part of a 7-sided star behind the forward portion and slightly rotated, but I saw a version on Google that made them look like individual pieces that I thought looked rather neat. Especially for the Andorians.
To the left is a slightly larger copy of the banner.
You all let me know your thoughts.
Mark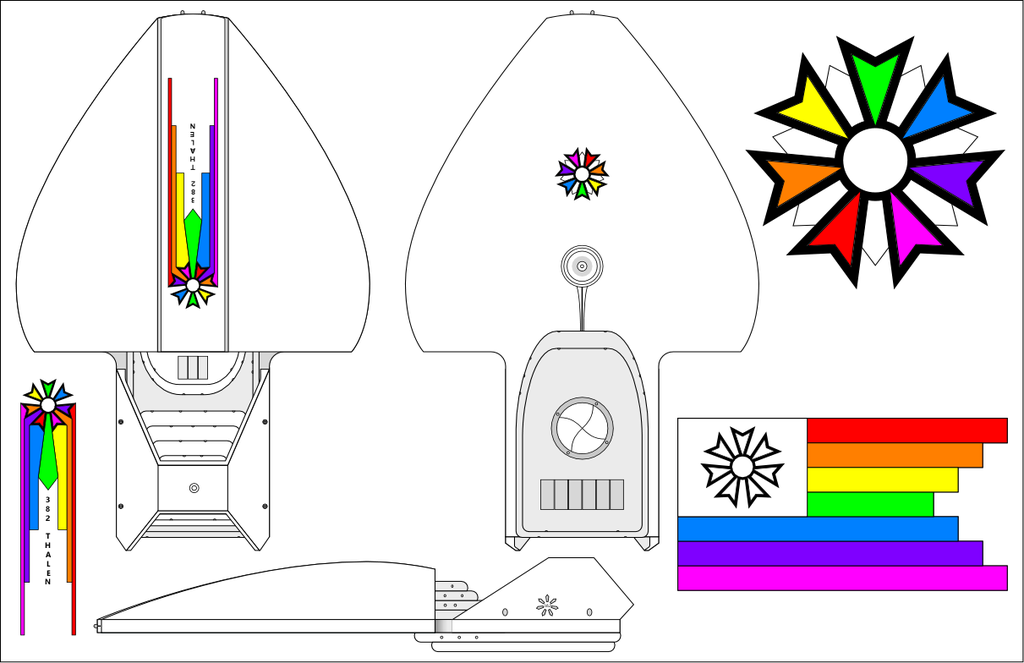 _________________
Northern lights passed by then they were gone. And as old stars would die so the new ones were born. Ever on I sailed celestial ways. And in the light of my years shone the rest of my days. Those who know, will they help us grow, to one day be Starriders.